Pulaski Upholstered Beds
a great place to start and end each day
---

The bedroom has long been a special place in our lives. After all, we spend about a third of every day there. It's where we start and end the day. It's a place we go to rest and rejuvenate. And in our repose, the bed is the centerpiece of our momentary world. Where we dream and cry, cuddle and read. It should be as comfortable as it is comforting.

If you spend any time on Instagram or Pinterest, you'll find upholstered headboards are popular with designers and homeowners. Thumb through any home design magazine and you'll see upholstered beds featured in some of the chicest bedrooms, but upholstered beds easily adapt to any room style.

Whether you're a modern minimalist or a more-is-more maximalist, whether you prefer straight lines or layer upon layer, or your design approach is somewhere in between, an upholstered bed or headboard is an elegant and classic choice for many reasons.
Upholstered headboards, as a focal point, add shape and texture to your room, especially when they are button-tufted. They give the feeling of plushness, making your bedroom cozy and welcoming. They work well with any design style from traditional to bohemian. And neutral colors are soothing, relaxing, restful, and conducive to sleep.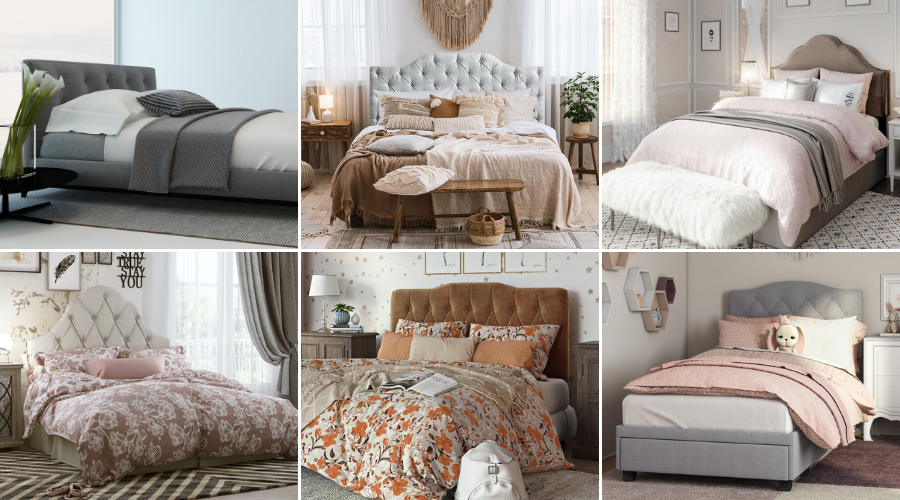 We recently acquired 8 more truckloads of quality Pulaski Furniture and they include 3 headboard styles, 4 complete bed styles, and a very unique hand-painted bombe accent chest, among other chests, chairs, and occasional tables.

The Hilton Upholstered Headboard offers beautiful diamond shape button-tufting with light grey linen-look fabric. The contemporary headboard is stylish and relaxed with classic block-edged wings mounted on the outside edges. We have it in Queen and King size at a price that is hundreds of dollars less than online stores.

OUR PRICE: $79 (Queen or King) | compare at Coleman Furniture Queen $569 on sale ($825 regular price)
and King $755 on sale (regular price $1,200)
If you want something a little fancier, the King size Damask Upholstered Headboard is arched with diamond button-tufting in a soft shade of pale blue. Coleman Furniture doesn't sell just the headboard, but we were able to compare it online at Walmart and Home Square even though they are both out of stock. Our Damask Headboard is IN STOCK and ready to take home TODAY!

OUR PRICE: $79 | Walmart: $299.99, Home Square: $457.99
What if button-tufting isn't your thing? Well, you're in luck. We have this Glam Upholstered Queen size Headboard with a striking high-arched profile and rich velvet fabric that is plush and luxurious. The rich grey color is cool and sleek like chrome and it's bordered with satin nickel nailhead accents that give it a little more bedazzle.

OUR PRICE: $79 | Coleman Furniture $315 on sale (regular price $500)
Did you know that platform beds are one of the very first forms of bed designs? It's thought that King Tut slept on a platform bed as early as 1340 BC. These low-profile bedframes do not require a boxspring and the supporting slats allow for your mattress to stay fresh and aerated.
This Mid-Century Modern Upholstered Platform Bed is simple and functional and fits in nicely with any décor style. Its cool grey linen-look fabric has a row of matching button accents that stay true to its minimalistic appearance. This is a King size bed, but not a king size price.

OUR PRICE: $198 | Coleman Furniture $659 on sale (regular price $1,000)
Looking for something more dramatic? The Heirloom Upholstered Queen size Platform Bed features graceful scooped corners on its headboard and is upholstered in luscious light grey velvet that wraps along the side rails and footboard to create a seamless look.
OUR PRICE: $198 | Coleman Furniture $365 on sale (regular price $575)
Platform beds are perfectly designed for built in storage and Pulaski's King size Glacier Upholstered Platform Storage Bed is no exception. Two drawers at the foot of the bed will store extra linens, pillows, or anything else you want hidden under the bed. Biscuit tufting in grey linen-look fabric offers a tasteful silhouette that makes it easy to change your room style around this smart bed.

OUR PRICE: $288 | Coleman Furniture $905 on sale (regular price $1,475)
Upholstered beds are not the only style of bed we have right now. If you're craving a bit of nostalgia, we have a Queen size Curve Metal Bed that will take you back to a simpler time. Reminiscent of 19th century artisans who hand poured and polished their iron bed frames, the classic slat design has a brown powder-coat finish that will blend easily with bed linens and your room motif.

OUR PRICE: $148 | Coleman Furniture $579 on sale (regular price $850)
In the mid-1700s, bombe chests were in every fashionable home in Paris and soon found their way to discerning collectors all over the world. Our Hand-Painted Bombe Accent Chest has the distinctive curvy, bowed shape of the French chests of drawers. It is embellished with words of encouragement such as hope, love, wisdom, and harmony. This exquisite 3-drawer chest is as much at home in an entryway or hall as it is in a bedroom or living room.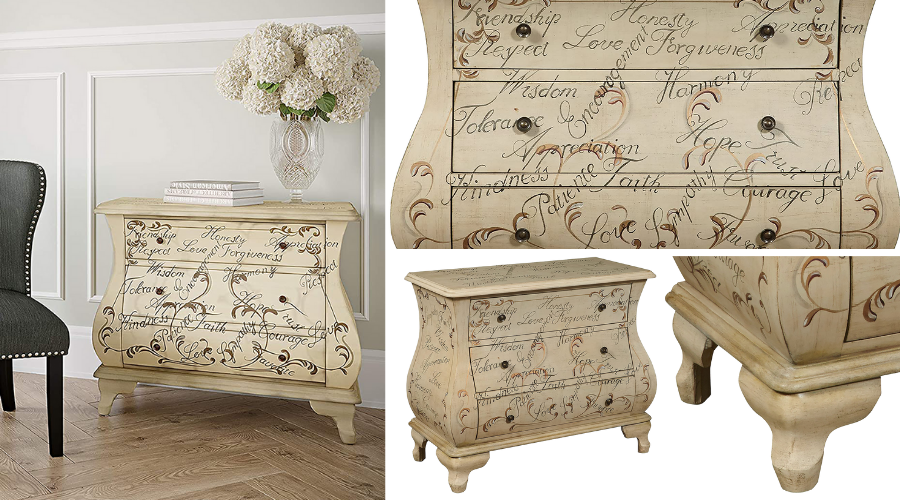 OUR PRICE: $288 | Coleman Furniture $459 on sale (regular price $900)
We're committed to offering the best prices possible and we promise you, we'll keep shopping around to make sure that happens time and time again. There's absolutely no reason why you should have to wait for your furniture to be delivered from an online retailer when you can walk into our stores, pick out what you want, and take it home that day.

Click Here to read our original Pulaski Furniture blog, Get The Look…Save The Money and see other great Pulaski Furniture Deals by clicking here.
Give us a peek at your sanctum sanctorum on Instagram at @southeasternsalvage or on Twitter at @SESHomeEmporium so we can see how you start and end your day.
---