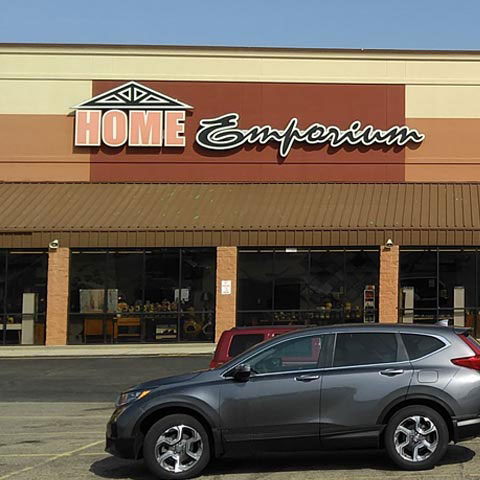 Home Emporium
11360 Princeton Pike
Springdale, OH 45246
Phone: 513-841-9150
Store Manager: Michelle Reith

Email

Hours: Mon-Fri 8am-7pm
Sat 8am-6pm
Sun 10am-6pm


Holiday Hours:


4th of July Hours:
8am-5pm


Holiday Hours:

Wednesday, November 28 - Closed at 5:00 pm
Thursday, November 22 - Closed for Thanksgiving

Monday, December 24 - Closed at 3 pm
Tuesday, December 25 - Closed for Christmas

Monday, December 31 - Closed at 5:00
Tuesday, January 1 - Open for Regular Business Hours
Visit Us on Facebook

Please click here for a Virtual Tour of our Mobile Store and see what you will find in all our stores Store Tour
---
CityBeat
---
CityBeat Annual Manual
---
Cincinnati Magazine
---
Cincinnati Enquirer / Kentucky Enquirer
---
Hamilton/Middletown Journal-NewsDayton Daily / Springfield Daily
---
HouseTrends Magazine
---
This website is designed to give customers a general idea of the type of products we sell. Products, Styles, Colors, and Prices may vary by store.
If you are looking for something specific, please confirm availability and price with the store.