Blue & White Porcelain Renaissance
Timeless Classics: Crisp, Clean, & Refreshing
---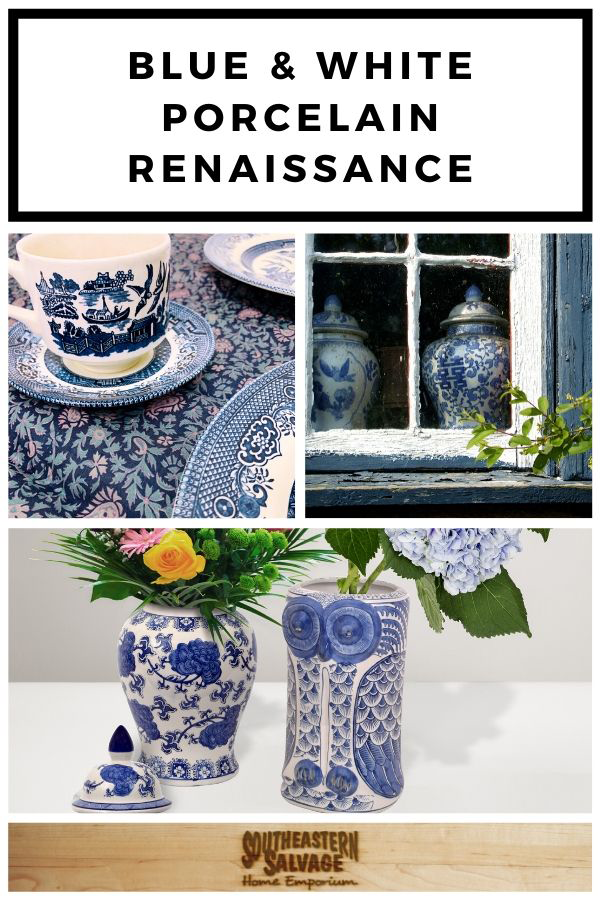 Blue and white porcelain is a timeless classic dating back centuries. This past year we have seen a rebirth in popularity, from the kitchen to the garden.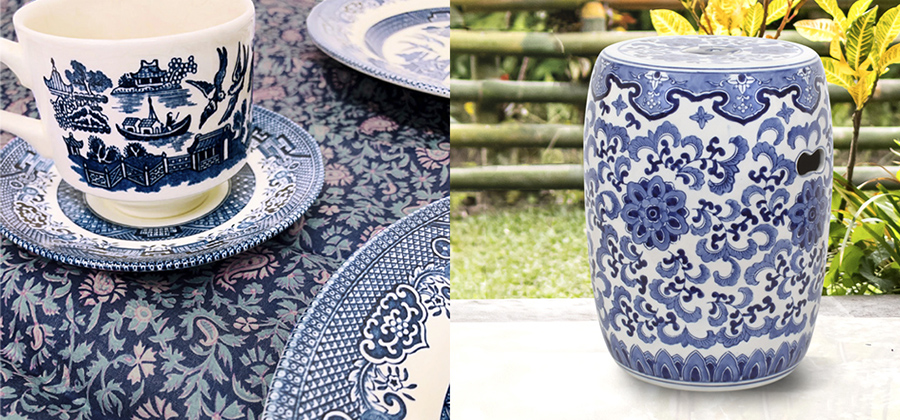 The crisp white, in contrast to the bold blue, is clean and refreshing. The intricate designs and patterns add an exotic flavor, but also blend well with nearly any décor style.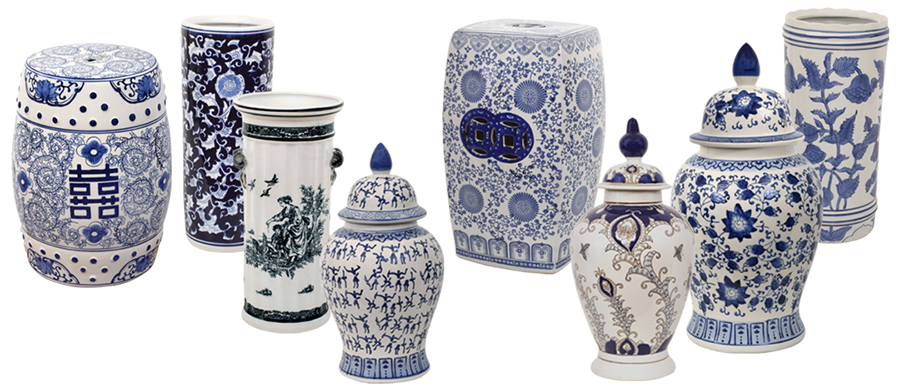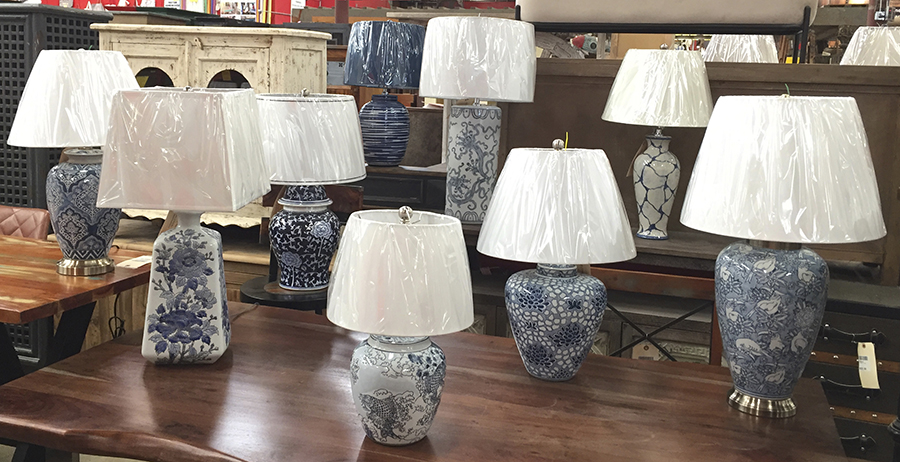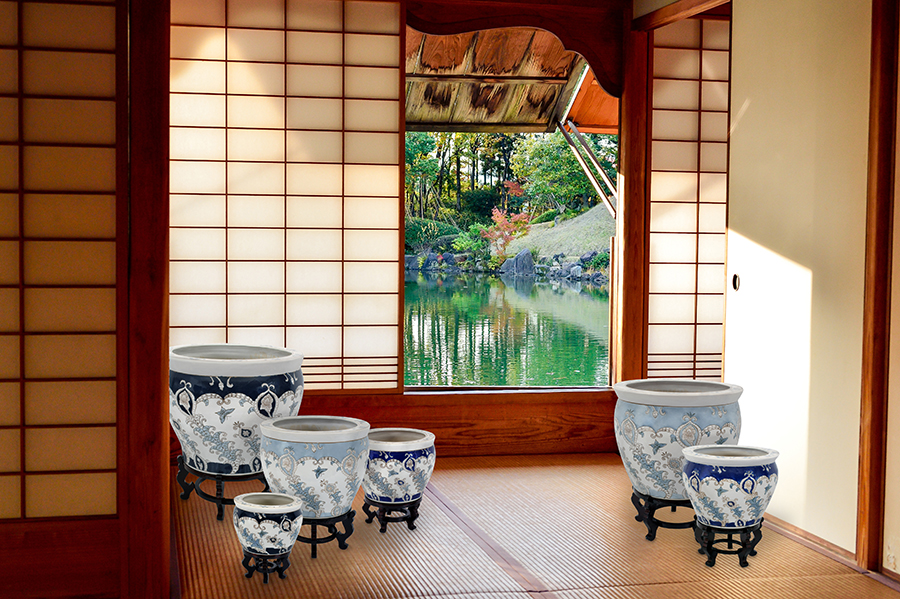 Although they are beautiful to display just as they are, temple jars and umbrella stands can also be used as vases, while garden stools can be used as side tables and plant stands.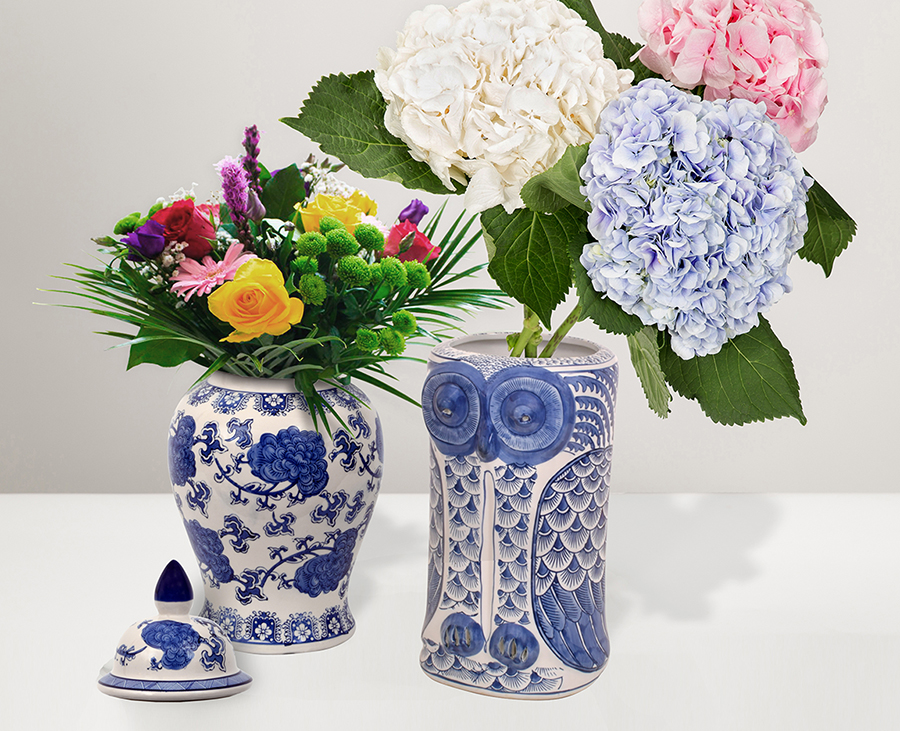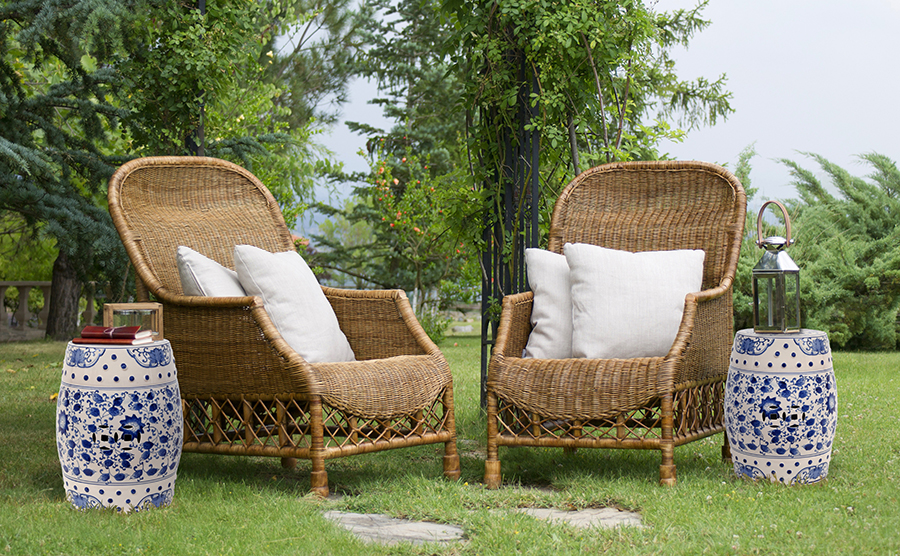 Pair them to make dramatic arrangements throughout your home. Combine different styles with different sizes. Add a splash of color to brighten up a corner, a table, or a mantel.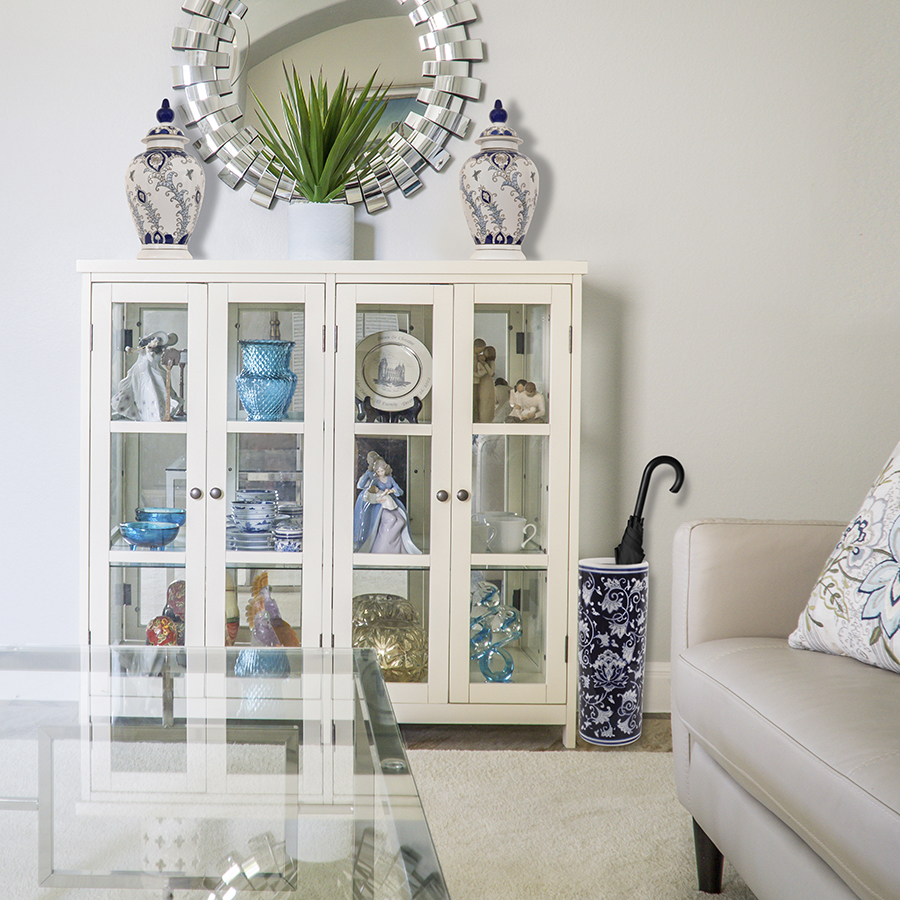 Here, you can see how Alisa Culyer of Honor & Grace Designs has a passion for blue and white and uses it in her interior designs. Here she has paired two of our temple jars in different sizes and styles for added interest and contrast.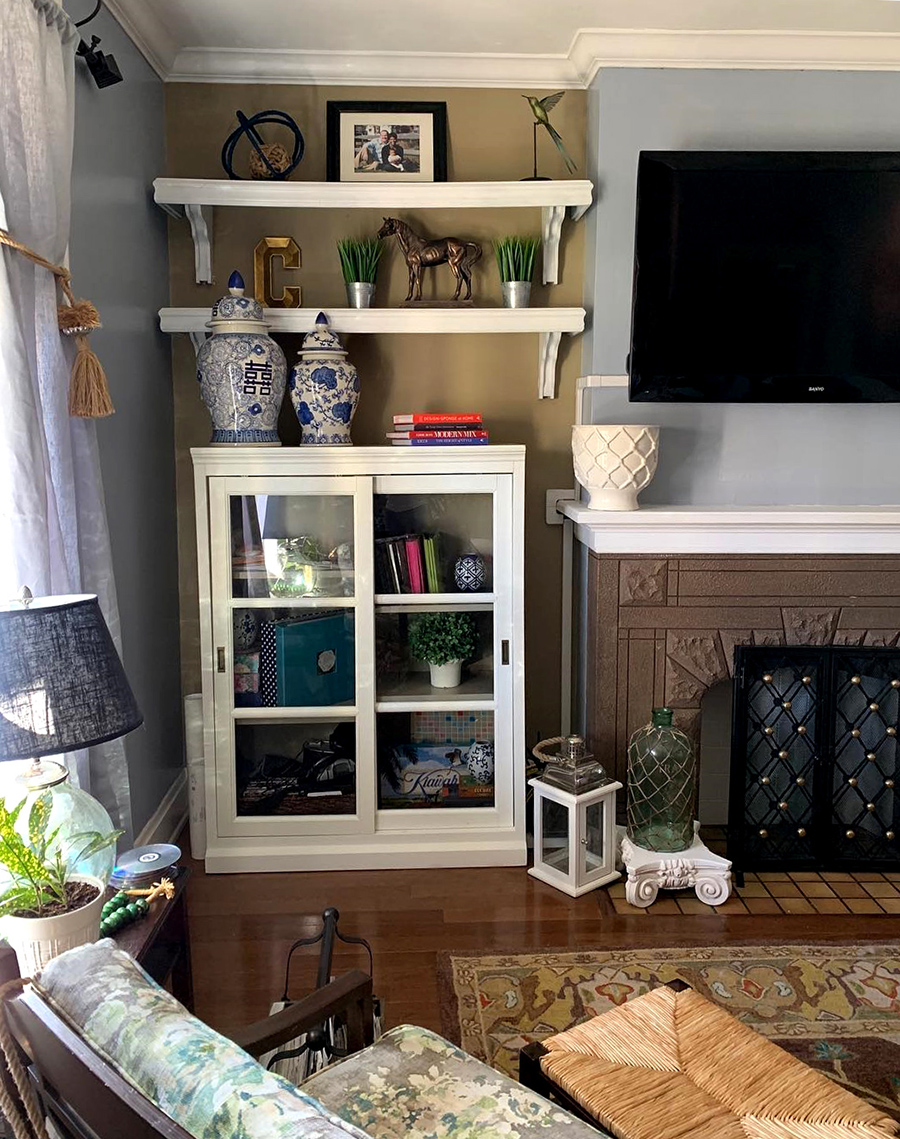 The Double Happiness symbol 囍 is traditionally used in China to represent wedded bliss. Pottery adorned with this symbol is given to newlyweds to wish them joy in their marriage.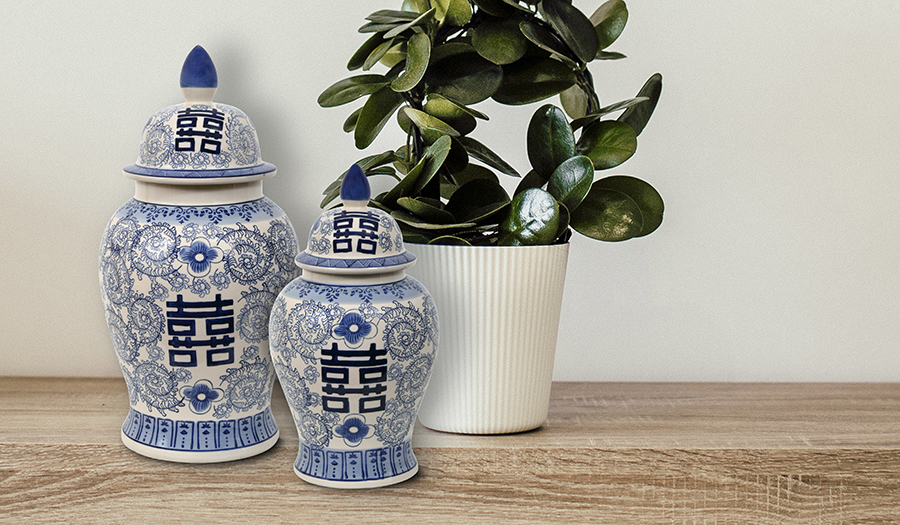 Wait a minute… what's the difference between a temple jar and ginger jar?
While the blanket term "ginger jar" is often used to describe all Chinese-style lidded porcelain pots, there are very specific differences between ginger jars and temple jars.
Both jars can have a similar shape, but ginger jars often have a round, bulbous body and wide shoulders. Their lids are usually domed and have no additional ornamentation. Although the Chinese traditionally used the jars to store and carry a variety of spices and herbs, the jars acquired the name "ginger jars" because they often contained ginger when they were exported to the West.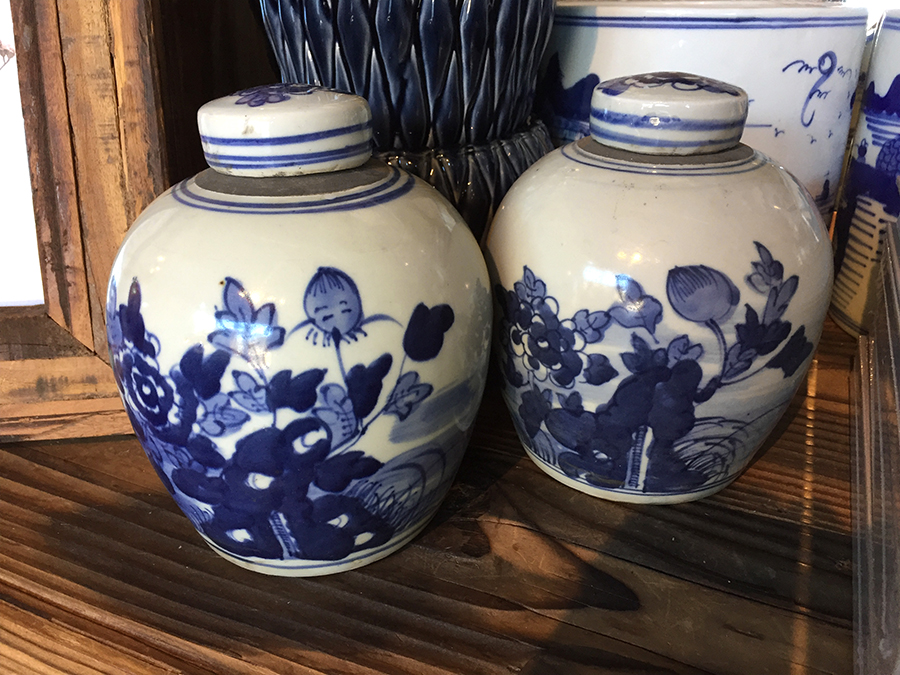 Temple Jars, on the other hand, have some kind of ornamentation on the top and have more of a fishtail shape. It is believed they were originally used to hold the ashes of loved ones and adorned the Buddhist temples, thus they became known as "temple jars". Just like ginger jars, they were eventually used to hold rice, spices, herbs, and salts, among other things, and today, they are mainly used for decorative purposes.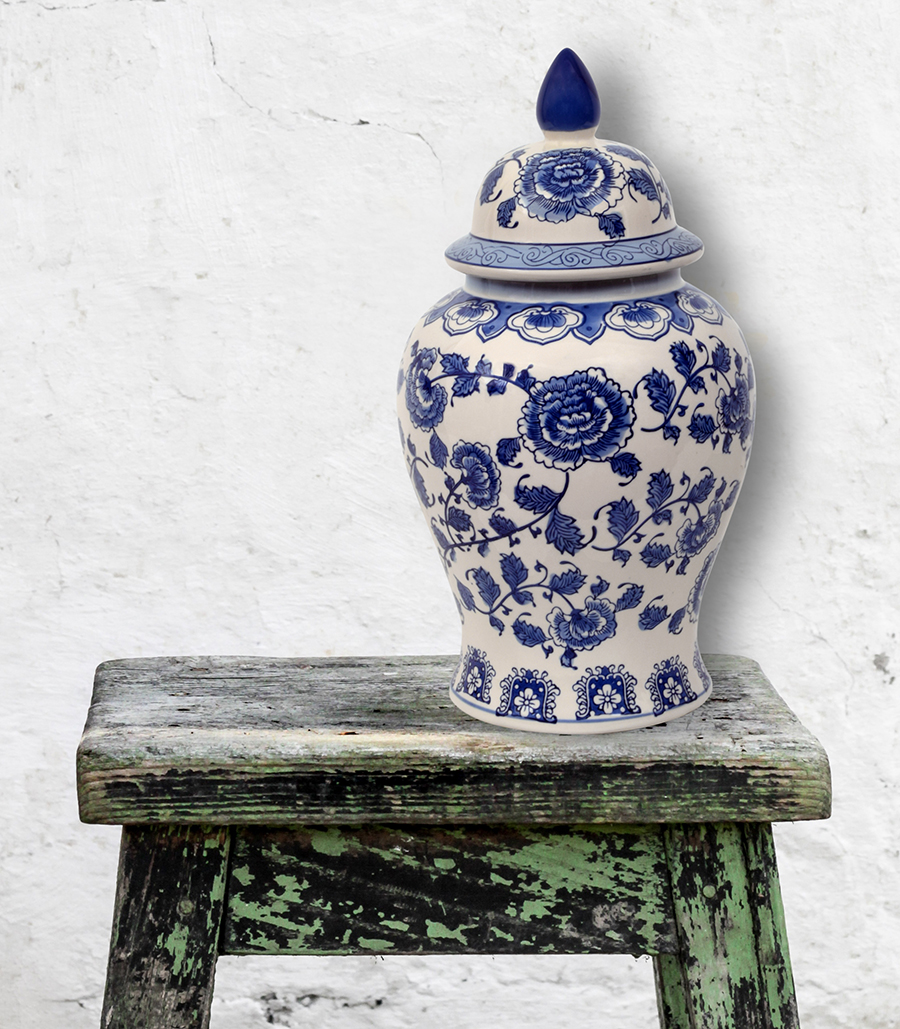 Blue and white porcelain dates back hundreds of years and spans many continents. Although blue and white decoration first became widely used in Chinese porcelain in the 14th century, it is believed the origin of this decorative style dates back to 9th century Iraq. After cobalt blue pigment began to be widely exported from Persia, it inspired imitative designs in Islam, Japan, and later Europe. It seems every country has found a way to make their patterns stand out and be instantly recognizable.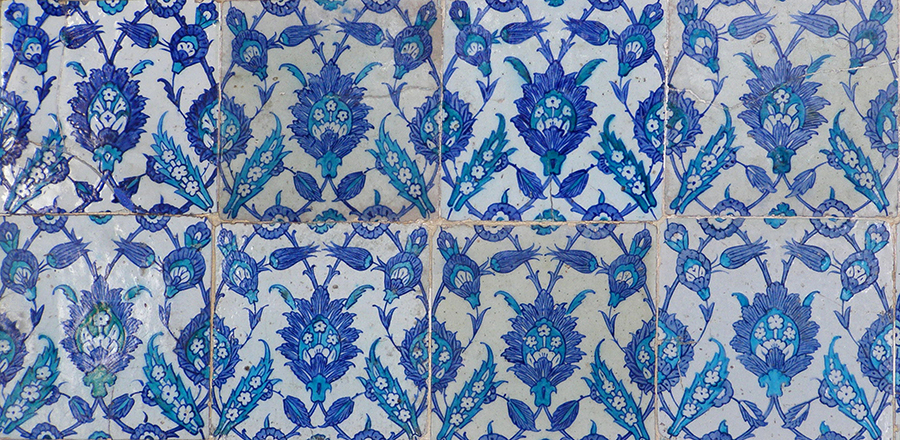 In the 14th century, cobalt blue was considered a precious commodity, with a value about twice that of gold. The cobalt pigment is one of the very few that can withstand the highest firing temperatures that are required for this delicate porcelain and porcelains. Many of the intricate patterns are applied by hand using a fine brush.

Over the centuries the process of firing pottery has been refined, but has not strayed too far from its original roots. The decorations however, vary quite a bit depending on where the pottery originates. China, Japan, Turkey, the Middle East, Italy, the Netherlands, France, and America all feature artwork and symbols that celebrate their own unique culture and tradition.

What have you done with your Blue & White Porcelain pieces? Post your photos on Instagram at @southeasternsalvage or on Twitter at @SESHomeEmporium
---