Skoolie Tour
Living Large in a House On Wheels
---
Every now and then, a customer will show us a project that really surprises us. That's what happened when we saw the Beavers Dam Adventure Bus.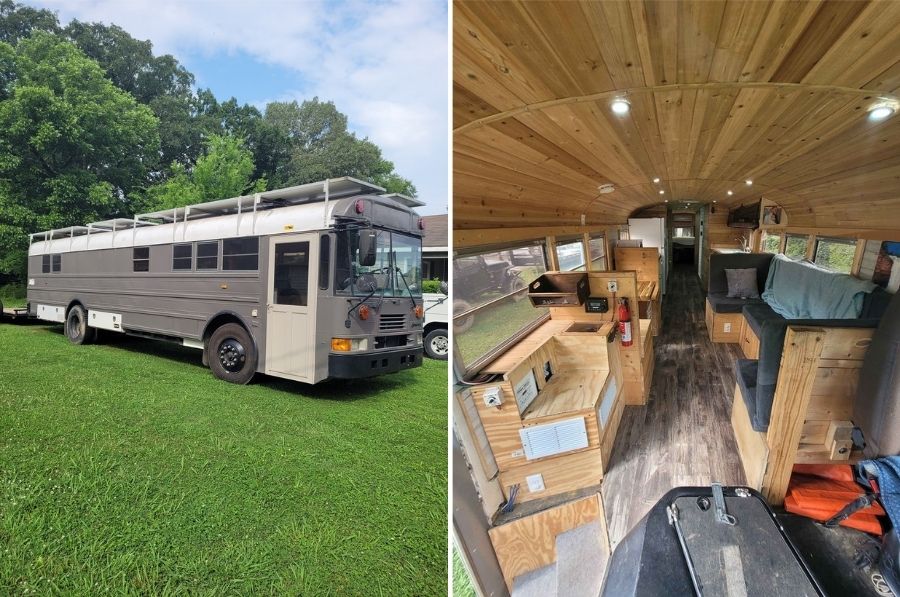 The vandwelling lifestyle is still going strong thanks to a rise in remote jobs. It's hard to scroll through TikTok or Instagram without seeing a skoolie or van conversion. For those who don't know, "vandwelling" or "van life" refers to a lifestyle that involves living in a vehicle, either full-time or part-time. A "skoolie" is a school bus that has been converted into a living space, sort of like a do-it-yourself RV.
Brandon Beavers and his wife, Jessica, bought their bus in January 2019 due to his job requiring that he travel the country for half of the year. After some negotiating, Brandon and his company came to an agreement: his family would travel with him and stay at campgrounds. Over the next six months, they spent nearly every day turning their bus into a home on wheels.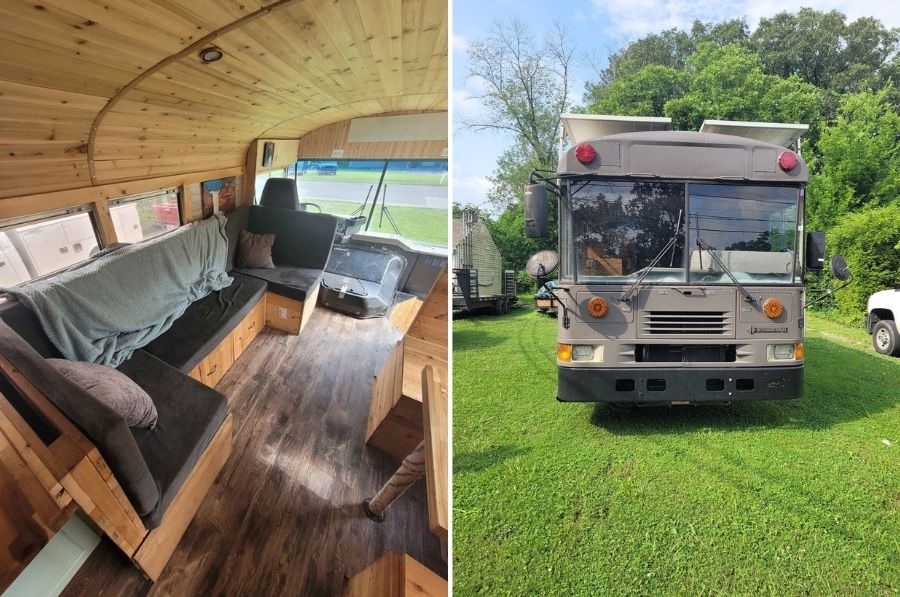 If you're building your own skoolie or van conversion, don't be afraid of using materials that you would use in a regular home. You can keep the comforts when it comes to things like countertops, cabinets, and even flooring.
Brandon and Jessica sourced materials from all over the country, but one of their closest options was Southeastern Salvage in Chattanooga, Tennessee. Their cabinets and countertops came from our store. By shopping with us, they were able to have both affordability and quality.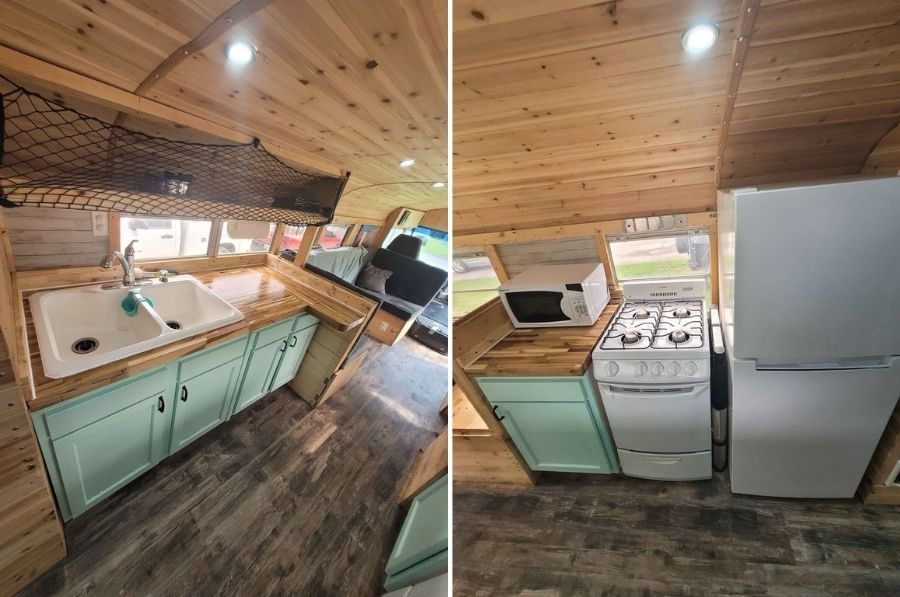 Butcher block is easy to cut to whatever dimensions you need. Here are some photos of a slab being prepped for the repurposed drop-in sink that Brandon restored by hand.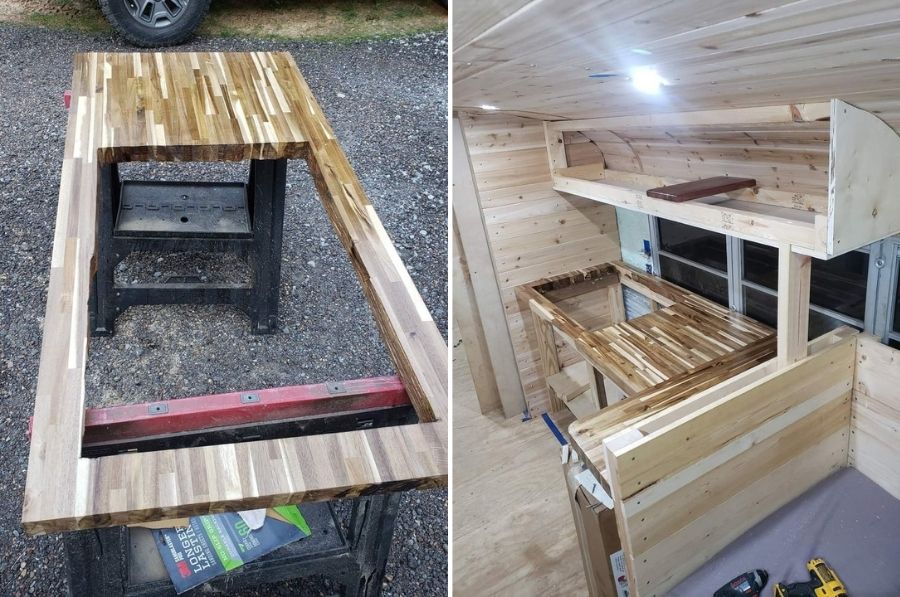 /br>
Butcher block was used for multiple surfaces around the bus.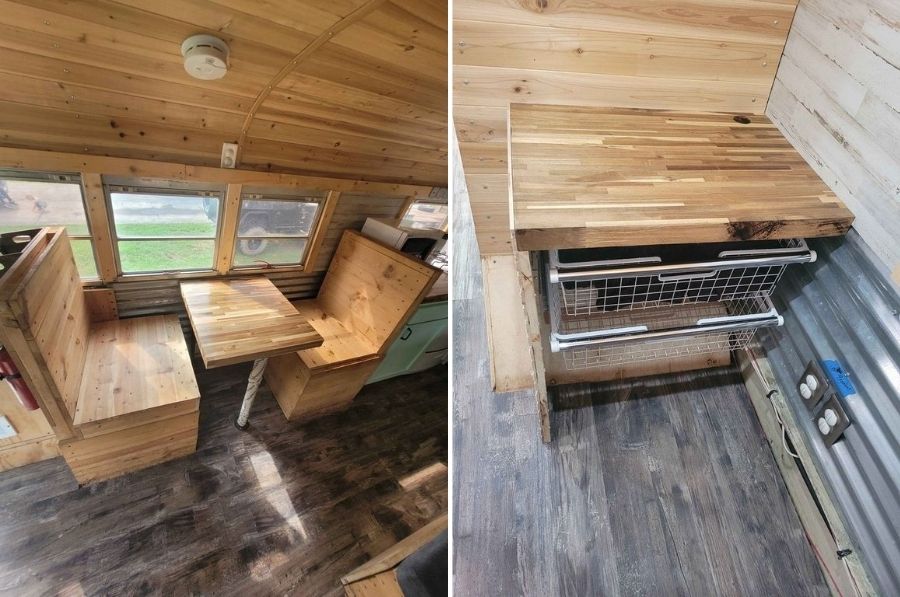 The bus features a shower, fully-tiled in stylish black and white subway tile.
The "master bedroom" is located in the very back of the bus. A custom bunk bed was made for their two children.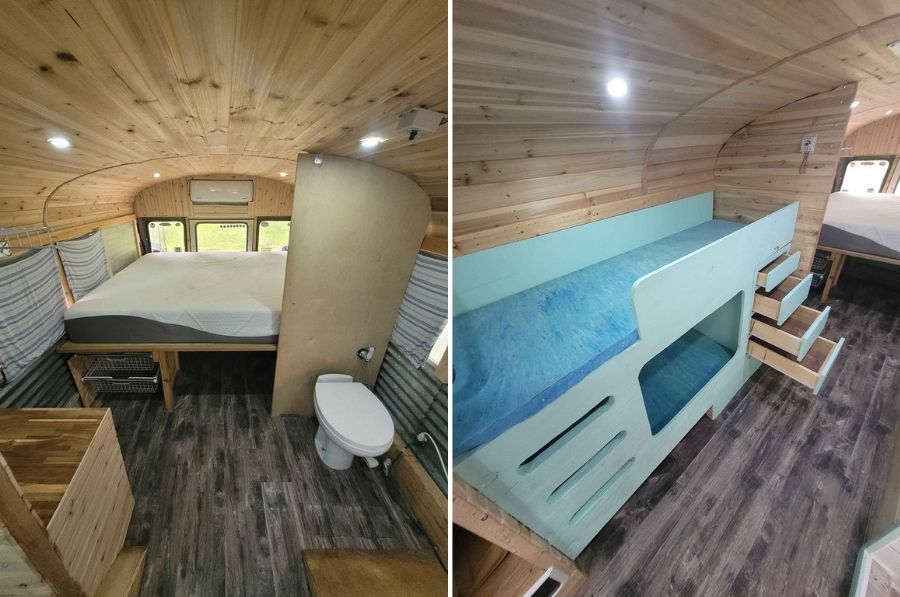 Brandon and his family have traveled from coast to coast and from border to border in their house on wheels. The bus carries some incredible memories with it, as well as a little piece of Chattanooga.
Their family of two adults, two children, four cats, an 80 lb dog, and a bearded dragon has since purchased a home, started a business, and settled down in Chattanooga. Though they have decided to sell the bus, their memories will last a lifetime. If anyone is interested in becoming the bus's next owner and making memories of their own, Brandon can be reached at 423-790-6940. If you would like to support Brandon's new business venture, visit www.TheRenewCrew.com.
We would love to see how you used our products! You can find us on Instagram at @southeasternsalvage or on Twitter at @SESHomeEmporium
---