Grumpy Ole Goat is a small family farm in the Tennessee Valley.

The farm consists of a small herd of Nubian and Lamancha dairy Goats, chickens, guinea fowl and several cats and dogs.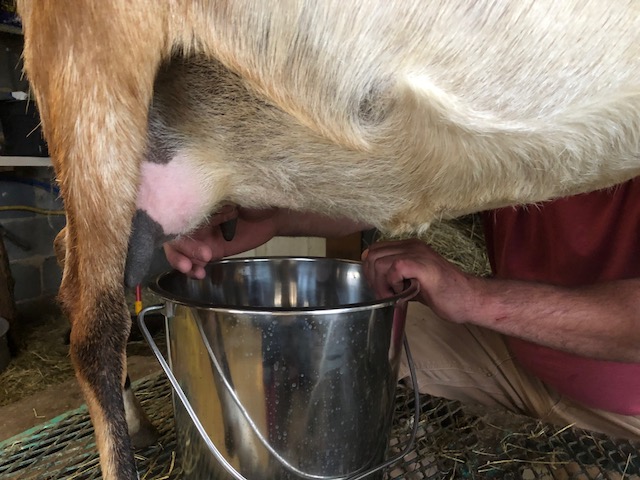 They milk the goats daily and use their milk to make Grumpy Ole Goat skincare products.

The cream in goat's milk is rich with emollients and natural moisturizers that get absorbed by the skin instantly and create a moisture barrier to keep skin soft, smooth, and supple for a longer period of time.

Why is Goat's Milk Good for You
Goat's milk is proven to be effective in treating acne.
Goat's milk soap is less allergenic than synthetically loaded commercial soaps and detergents.
It is known that goat's milk can reduce skin inflammation, and soothes dry and damaged skin.
It can reduce wrinkles and delay signs of aging.
Goat's milk soap has alpha-hydroxy acids that soften the skin by breaking down the glue that holds dead skin cells together.
The famous Cleopatra, known for her beauty and amazing skin, guarded her biggest skin care secret - bathing in goat's milk.
Goat's milk has the closest pH level to our skin. This helps protect our skin from invading bacteria and chemicals.
It is loaded with essential nutrients and vitamins: vitamin C, B1, B6, B12 & E & A. A being the most important for your skin.
Commercial store bought soaps are a detergent, resulting in dry skin.
Coconut Oil speeds the healing for cuts and bruises and forms a protective barrier to hold moisture in your skin.
Olive Oil has 3 major antioxidants, Vitamin E, Polyphenols, phytosterols - Protects the skin from premature aging - Restores skin smoothness and protects against UV light and does not clog pores.
Castor Oil Restores skins natural moisture balance and is used to treat various skin conditions such as dermatosis, psoriasis and acne.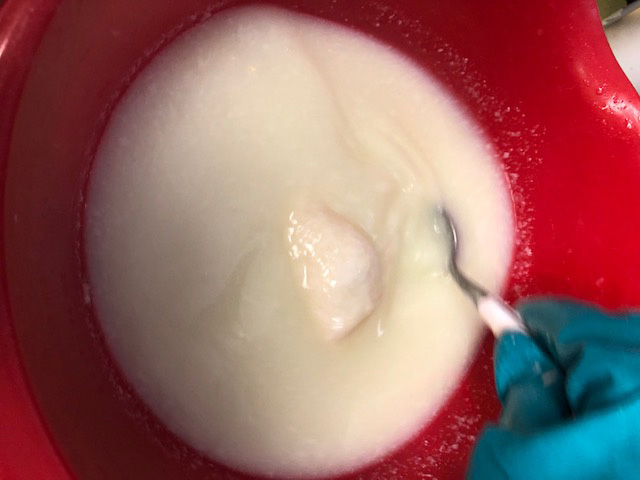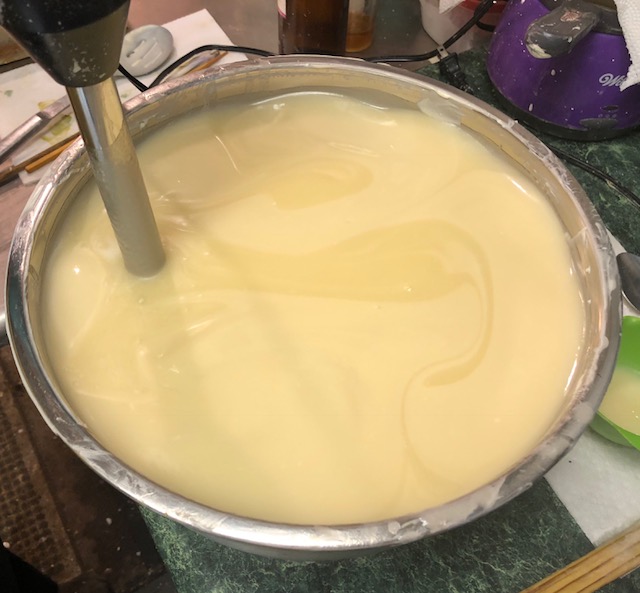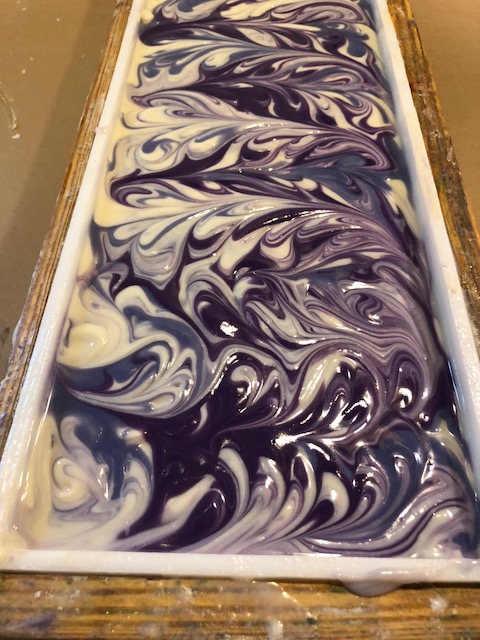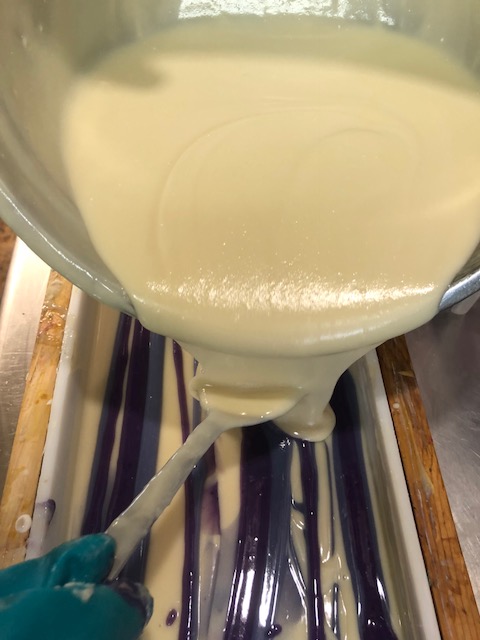 Cold Process soapmaking is the act of mixing fixed oils (common oils include Olive, Coconut and Castor) with an alkali (Sodium Hydroxide or Lye) and goat's milk. The result is a chemical process called saponification, where the composition of the oils change with the help of the lye to create soap.

One of the main benefits of cold process soapmaking is having complete control over ingredients which makes it easy to blend in fragrances and colors.

To get the marbled color, soap mixtures are poured into the molds, alternating colors and then swirled with a chopstick or dowel.

The soap stays in the mold for 24-48 hours. After being removed from the mold, it is cut, then cured for 4-6 weeks.

The curing process allows the excess moisture in the bars to evaporate, leaving a harder and longer-lasting bar of soap.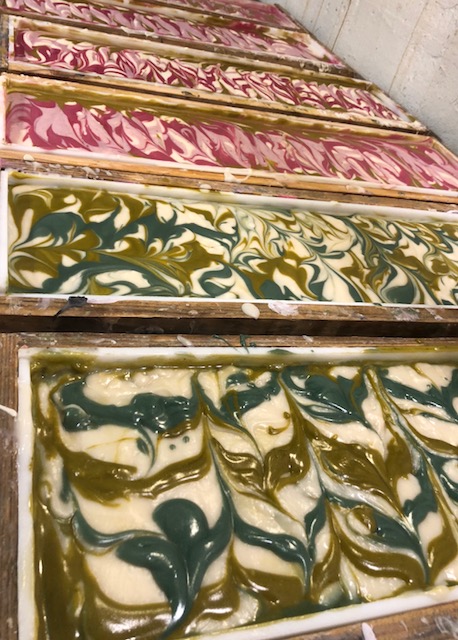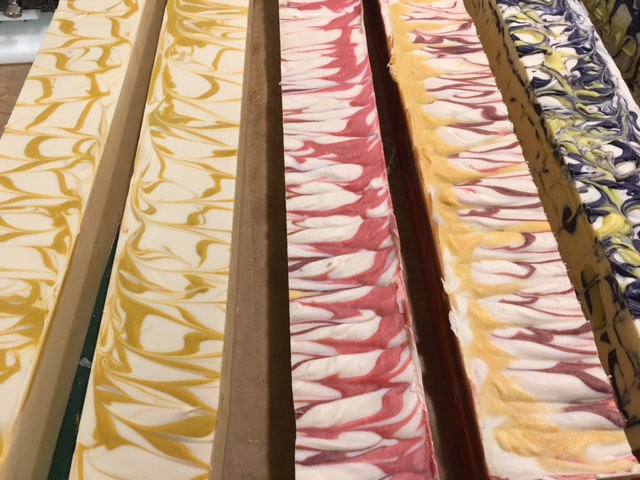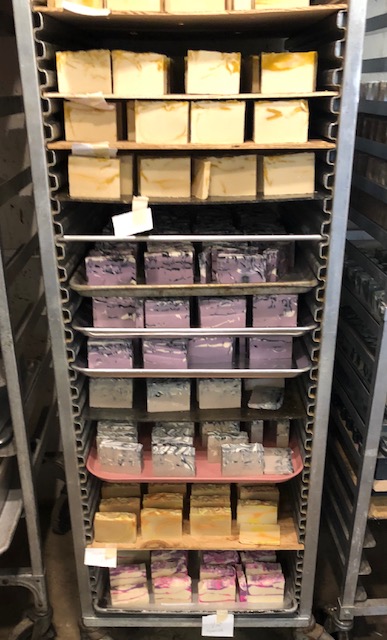 This website is designed to give customers a general idea of the type of products we sell.
Products, Styles, Colors, and Prices may vary by store.
If you are looking for something specific, please confirm availability and price with the store.